Posted by Austin Colomaio on Apr 6th 2023
So you want to add our Combo or Standard Adjustable Gas Block to your gun. Let's see if it fits!
Both of our gas blocks are patterned off of the standard AKM footprint. This means that the cross pins, gas port, and gas tube are all in the same location as the standard 45 degree AKM gas block (see below).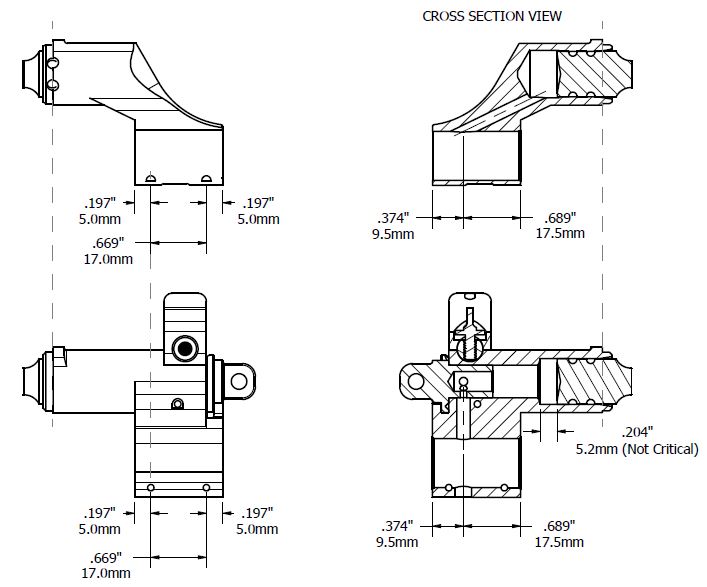 .
AKM 45 Degree Replacement
What you need to do is measure the outer diameter of the gas block barrel journal.
Use a micrometer good to .0001in (MCMASTER.COM PN 85185A52, CHEAPER USED EBAY).
Measure the barrel in 4 locations (NORTH-SOUTH, EAST-WEST, FORWARD, REAR).
Add those 4 measurements up and then divide by 4. This will be the average measurement.
The barrel should measure somewhere between .5910in to .5953in.
If your average is between those numbers then Congrats! The barrel diameter is a good fit. You will likely still need to do some fitting to the gas block or barrel for a perfect fit (see Installation Tips Replacing 45 Degree Gas Block below).
If your average is below .5910 email us at admin@occamdefense.com to see if we have any undersized Gas Blocks.
90 Degree Replacement
The first thing you want to do is measure the barrel as shown above for the 45 Degree Gas Block.
This is where things vary slightly. 90 degree gas blocks have a different gas port location than the 45s. You will need to have a new gas port drilled in the 45 degree gas block location (see dimensions above for reference). Depending on where the old gas port was drilled you may or may not need to weld the old port closed. This seems like a big deal but from our testing we have not seen a degradation in accuracy or function. Some may get lucky and our gas block will actually cover the old hole.
Once you have received your gas block see below:
Installation Tips Replacing 45 Degree Gas Block:
We're sorry to live in an age where we need to go over what we hope is obvious:
NEVER LET THE MUZZLE CROSS ANYTHING YOU'RE NOT WILLING TO DESTROY
TREAT ALL GUNS AS IF THEY ARE LOADED
KEEP YOUR FINGER OFF THE TRIGGER UNLESS YOUR SIGHTS ARE ON THE TARGET AND YOU HAVE MADE THE DECISION TO SHOOT
ALWAYS BE SURE OF YOUR TARGET AND WHAT IS BEYOND IT
SPECIFIC TO THE ADJUSTABLE GAS BLOCK:

NEVER CROSS THE MUZZLE WHEN ADJUSTING THE GAS BLOCK
ALWAYS USE A RANGE FLAG (INCLUDED) TO BLOCK THE ACTION OPEN WHEN ADJUSTING OR SERVICING THE GAS BLOCK
THE GAS KEY CAN GET AS HOT AS 1200F. USE A HEAT RATED GLOVE OR TOOL TO PREVENT POTENTIALLY SEVERE BURNS.
THESE ARE GENERAL NOTES FOR EXPERIENCED BUILDERS. OCCAM DEFENSE REJECTS ANY AND ALL LIABILITY FOR ANY MISHAP OR INJURY RELATED TO USE OF THESE NOTES.
NECESSARY TOOLS:

0-1" MICROMETER THAT READS IN .0001" (MCMASTER.COM PN 85185A52, CHEAPER USED EBAY)
TELESCOPE (SNAP) GAUGE FOR 15 MM (MCMASTER.COM PN 2081A1, CHEAPER ELSEWHERE)
15MM ADJUSTABLE LAP (MCMASTER.COM PN 4548A837)
DIAMOND COMPOUND (MCMASTER.COM PN 4776A37)
ROBERT FORBUS INSTALLATION PIPES (ROBERTFORBUS.COM PN GS-0006)
DEADBLOW MALLET (HALDER PN AR3366.030 3366.030 AVAILABLE AT AMAZON)

MEASURE THE ID OF THE GAS BLOCK AT 4 LOCATIONS (NORTH-SOUTH, EAST-WEST, FORWARD, REAR), AND AVERAGE THE RESULT. THIS IS YOUR INTERNAL DIAMETER (ID). MEASURE TO .0001". TENTHS MATTER HERE.
MEASURE THE OUTSIDE DIAMETER OF THE BARREL USING THE SAME METHOD (N/S, EW, F,R) TO TENTHS. AVER-AGE THESE 4 NUMBERS (ADD THEM ALL AND DIVIDE BY 4). THIS IS YOUR OUTSIDE DIAMETER.
IF THE BARREL IS MORE THAN .0005 LARGER THAN THE ID OF THE GAS BLOCK, INCREASE THE ID USING A DRILL, THE LAPP, DIAMOND COMPOUND, AND ANY GOOD OIL. GO SLOW- YOU CAN'T PUT THE MATERIAL BACK. IT MAY PAY TO SAND THE BARREL INSTEAD OF THE BORE-- IT DEPENDS ON YOUR CIRCUMSTANCE.
WHEN YOU'RE CLOSE TO .0005" OF INTERFERENCE, PUT ANTISIEZE ON THE BARREL AND BORE, AND TEST FIT USING THE PIPE AND HAMMER. THE BARREL SHOULD BE IN A VISE FOR THIS OPERATION-- NEVER POUND AGAINST THE RECEIVER OR STOCK TANG.
THE LOCATION OF THE BLOCK WITH RESPECT TO THE PISTON IS NON-CRITICAL, BUT THE NOMINAL GAP IS .207" BETWEEN THE COUNTERBORE FACE AND THE PISTON FACE.
THE GAS BLOCK IS NITRIDED FOR CORROSION RESISTANCE. YOU'LL NEED A CARBIDE DRILL OR 3MM BOTTOM CUTTING CARBIDE ENDMILL TO CUT THROUGH IT FOR THE CROSS PINS. AFTER YOU SEE BRIGHT STEEL YOU CAN SWITCH TO A REGULAR COBALT BIT.